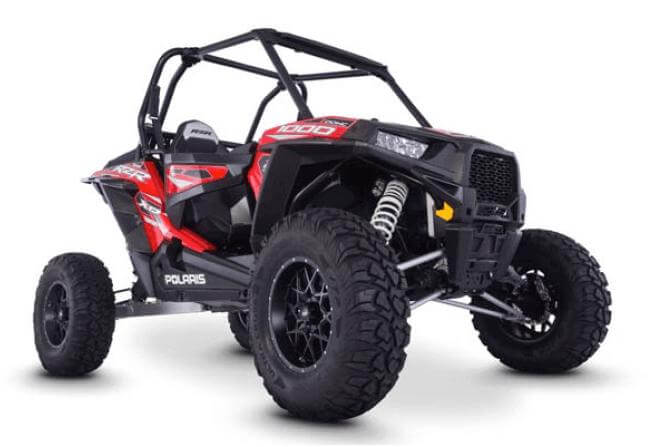 Franklin, TN – July 18, 2016 — ITP announced today that it is expanding the size selection in three of its fastest-growing product lines to meet the demands of modern UTV owners. Both the ITP UltraCross and Blackwater Evolution tires are available in larger sizes, while the STORM SERIES Hurricane wheel now comes in three new sizes and new offsets. "Our side-by-side vehicle customers have been requesting larger tires up to 34" on a regular basis," said Rhett Turpin, Head of ITP Sales. "With the demand for bigger tires, there's also an obvious need for larger wheels to maintain realistic sidewall heights, also often referred to as aspect ratios, to ensure that the larger tires maintain the performance our loyal ITP customers have come to expect from our product offering."
ITP has added four new sizes of its UltraCross R Spec tires to meet fitment requests from customers and racing teams. The new sizes range from new 27-inch tires to large 34-inch tires, giving ITP a total of 14 different UltraCross sizes. Development of two new UltraCross R Spec tires — complete with the non-directional tread pattern for multi-use, desert, and slick rock use — was driven by overwhelming customer demand. Two additional sizes are being developed and will include ITP's exclusive Rock Armor™ sidewall protection. Rock Armor™ refers to how ITP engineers its products to ensure maximum strength and durability under extreme conditions. "These new UltraCross tires are designed for desert racing," explained Turpin. "They are currently undergoing extensive field testing in race environments and will be available in August 2016."
Blackwater Evolution Updates
ITP has also added two larger sizes of its smooth-riding, versatile 8-ply rated Blackwater Evolution tires. These new 32- and 34-inch sizes give customers 17 different sizes to choose from. ITP's Tough Tread rubber compound increases cut and chip resistance and the Sidewall Armor adds an extra layer of protection to the vulnerable shoulder area. The Blackwater Evolution offers a smooth, stable, and predictable ride.
Larger STORM SERIES Hurricane Wheels
Three all-new Hurricane wheels are also being introduced, with the addition of the larger 16's and 17's and the new 14-inch (with a 6+1 offset) variety that were specifically engineered to allow Arctic Cat and Polaris machines to maintain the 50- inch width OHV trail restrictions in many states. These wheels will also feature a stylish Matte Black finish. "Bigger tires need bigger wheels," stated Turpin. "New vehicles can now accommodate larger tires; some without modification and most with basic modifications. With the increasing demand of these larger sizes, we made the decision to expand the size selection of our most popular brands to meet our customers' needs." All new sizes in both tires and wheels will be available in August 2016.
About ITP
Since 1982, ITP has been the world's #1 ATV/UTV aftermarket tire and wheel source. The premier ITP products are developed utilizing an experienced staff of engineers, designers and technicians at its two American tire facilities in Clinton, Tennessee, and Jackson, Tennessee, to develop award-winning tire-and-wheel designs for virtually all ATVs and side-by-side vehicles. Numerous outlets distribute ITP tires across the United States and in more than 25 countries worldwide. ITP is a registered trademark of The Carlstar Group, LLC. For a free, full-color ITP catalog, call toll-free: 1-800-889-7367. Tech questions call: 1-909-390- 1905.
About The Carlstar Group
The Carlstar Group is headquartered in Franklin, Tennessee, and is a global manufacturer of original equipment and aftermarket specialty tires and wheels for the agriculture, construction, outdoor power equipment, powersports, high-speed trailer and flat free/manual markets. The diverse portfolio of solutions are offered under several leading brands including Carlisle® tires and wheels, ITP® tires and wheels, as well as Cragar®, Black Rock® and Unique® wheels and Marastar® flat free and manual tires. The Carlstar Group employs 3,000 associates in 16 facilities located in five countries. The Carlstar Group has created a culture of converting great ideas into advanced products and has a legacy of excellence in product innovation, quality, and customer service. For more about The Carlstar Group, visit www.carlstargroup.com