The all-new Hurricane Bronze wheel launched this month as an alternative finish to the original matte black Hurricane wheel.  ITP has added the Bronze finish to the Storm Series portfolio to give consumers more options for vehicle customization.
Designed with eight sets of X-shaped wheel spokes, the Hurricane wheel is constructed with exceptional strength that features the ITP exclusive "Rock Armor" inner wheel lip for unequaled structural integrity.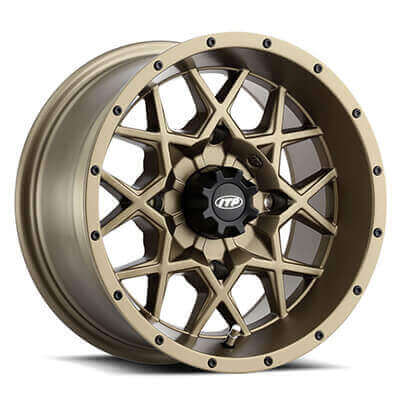 "Bronze finish is currently a trending finish in the Powersports aftermarket," said Rhett Turpin, Director of ITP Sales at The Carlstar Group. "This addition, to one of our most popular styles, allows the consumer the opportunity to own a unique look and express their personal style."
The Hurricane wheel is offered in Bronze and the original Matte Black finish. It is backed by ITP's Limited Lifetime Warranty and is offered in sizes: 14×7, 15×7, 16×7, and 17×7 inches.