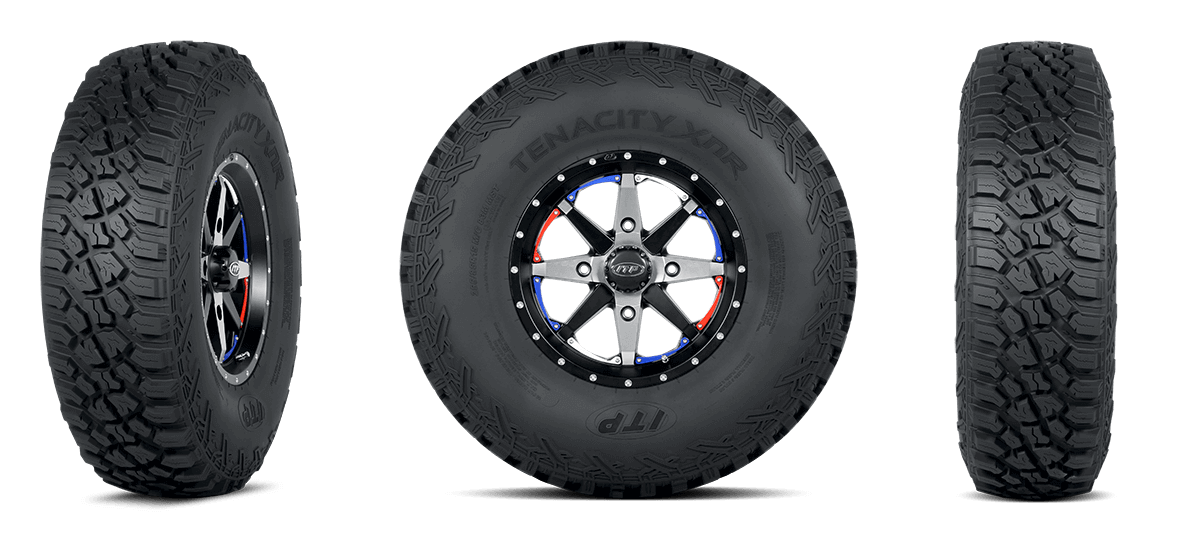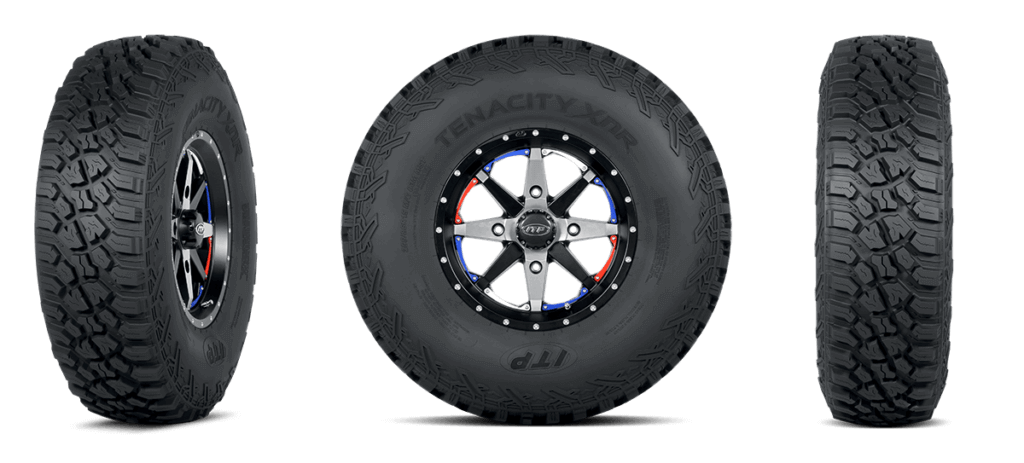 Franklin, Tenn. – December 5, 2019 – ITP announced today the launch of the 10 ply radial Tenacity® XSR (Xtreme Steel Radial) and Tenacity® XNR (Xtreme Nylon Radial) tires. The Tenacity® series is the next installment of premier high-performance tires from ITP.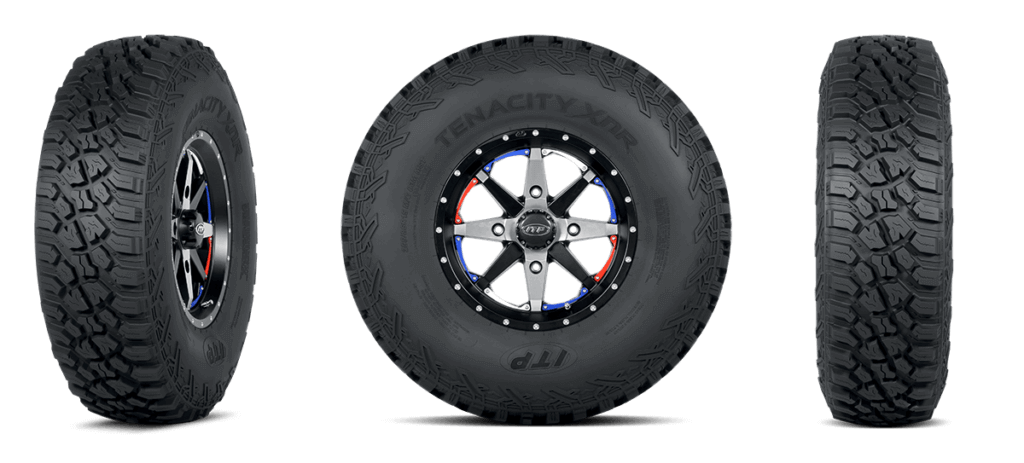 "The new Tenacity line features high-quality construction techniques that translate into the higher performance expectations of today's Super Sport SxS enthusiasts," said Rhett Turpin, Director of Sales – Powersports for The Carlstar Group.
Both the Tenacity XSR and XNR tires feature the same modern, computer-aided, non-directional tread pattern, specifically designed for desert, gravel, rock, and sandy terrain.
The new chain-type pattern increases traction in loose terrain, while the staggered shoulder blocks ensure consistent traction in rocky and rutted trail conditions.
A new rubber compound, unique to the Tenacity family of tires, effectively balances traction and tread life.
"Both the XSR and XNR have similar features," said Todd Hinson, Market Segment Manager – Powersports for The Carlstar Group. "But they also have very distinct internal components that set each tire apart."
Tenacity XSR
The Tenacity XSR is ITP's first steel-belted radial design tailored for the extreme rider/competitor.
Reinforced steel belts offer the competitive/aggressive rider improved puncture resistance; confidence-inspiring high-speed stability; and traction on par with light truck/off-road tires
A more rigid body ply construction method provides crisp steering response
Tenacity XNR
The Tenacity XNR brings the same high-performance as the XSR, but is designed for the recreational rider.
Carcass built with premium Nylon body plies and CCB (continuous cap belt) in a lighter, non-steel belted version
Nylon belts offer improved compliance for trail riding over rocks, roots, and rutted conditions at lower speeds
The Tenacity line of tires is available in 32x10R15 with an MSRP of XSR $230 and XNR $210.
About ITP
Since 1982, ITP has been the world's #1 ATV/UTV aftermarket tire and wheel source. The premier ITP products are developed utilizing an experienced staff of engineers, designers and technicians at its two American tire facilities in Clinton, Tennessee, and Jackson, Tennessee, to develop award-winning tire-and-wheel designs for virtually all ATVs and side-by-side vehicles. Numerous outlets distribute ITP tires across the United States and in more than 25 countries worldwide. ITP is a registered trademark of The Carlstar Group, LLC. Tech questions call: 1-909-390-1905. Visit: www.itptires.com
About The Carlstar Group
The Carlstar Group is headquartered in Franklin, Tennessee and is a global manufacturer of original equipment and aftermarket specialty tires and wheels for the agriculture, construction, outdoor power equipment, powersports, high speed trailer and manual markets. The diverse portfolio of solutions are offered under several leading brands including Carlisle® tires and wheels, ITP® tires and wheels, as well as Cragar®, Black Rock® and Unique® wheels and Marastar® manual tires. The Carlstar Group employs over 3400 associates in 17 facilities located in 4 countries. The Carlstar Group has a culture of converting great ideas into advanced products and has created a legacy of excellence in product innovation, quality, and customer service. For more about The Carlstar Group, visit www.carlstargroup.com